This is an animal blog. If you do not appreciate the love and companionship of an animal, please feel free to peruse another blog that better suits your interests... - Amy
I guess because I grew up here and now call this area home, I want to think that Blair County, PA, is "different" – "more progressive" than other areas of the state/country when it comes to compassion and care for animals in need. I guess after trying to convince myself of this for 20 years, I am ready to admit (to myself) that this county and state (leaders and officials) sadly rank up with most every other area when it comes to the lack of protection, concern, and care for its animals.
2:35am, Sunday
: My cell phone rang but it I had the volume on mute and never heard it. Alicia, the daughter of my childhood friend, Kelly, was trying to call me. I have always told her to call if she ever needed anything. Still exhausted from spending a sleepless night with Mazey on Friday due to storms, I must have been in an extremely deep sleep.
Alicia and her friends, home from college for the summer, had been on their way home from a night on the town when they saw an extremely injured cat wobbling along a sidewalk. All animal lovers, they stopped to find the cat soaked in blood and obviously in shock. The sweet boy never once hissed at them as they tried to comfort it and call for help. Having no idea what to do they called 911. The dispatcher did send an Altoona City officer but when he arrived he never even got out of the car. In a perturbed voice, he asked the girls 'what the problem was'. When they explained they didn't know what to do, the officer said he couldn't do anything. If they didn't own the cat and couldn't take it then they should 'just leave it there'. He then drove away. Another couple had stopped and stayed with the girls for a while. They also provided a number to the only emergency vet clinic we have in the area (located 45 miles away). But, they too, left not knowing what to do. Taught as children to turn to the police for help, the girls continued to sit with the cat for 45 minutes completely at a loss as to what to do. Alicia took a towel out of her car and gently wrapped the cat and laid him on a step in a more secluded location hoping someone would call them and offer help.
By the time I woke up and got in touch with her, several hours had passed. Knowing the cat was probably still close by if as injured as they described, I jumped in the car and raced across town. I prayed the cat had passed away and was out of pain or that somebody (the owner or another good samaritan) had found it and took it for care.
I easily spotted the blood-soaked towel on the step right where Alicia had placed it. It was empty so I assumed the cat had managed to wander into nearby foliage for protection. As I began to search, Alicia pulled up beside me. I realized I had never asked her for a description and didn't even know what color to look for. At that moment we both spotted the cat, hunched in a protective stance on the brick wall surrounded by leaves and branches. He had managed to walk a few more steps and find a way to obscure himself among the leaves.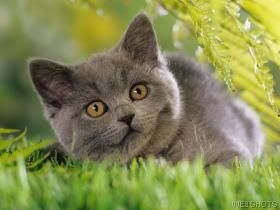 (This closely resembles our little angel)
I was shocked and mortified to find him still breathing. He was beautiful. His soft gray coat was matted from blood that had poured from his ear and mouth and an obvious hematoma on his forehead indicated he had probably been hit by a car.
He responded to my voice but not knowing what injuries he sustained, I was so afraid to move him for fear of causing even more damage. Alicia was like a little angel. She grabbed the towel and was able to reach around and help to gently push him towards us from under the fence so I could pick him up. He never flinched. This little boy was in bad shape and I knew the only alternative was to end his suffering and find a vet to put him to sleep. We placed him on another blanket in my back seat and I began the search for a vet. It was now around noon.
I called a good friend who runs our local Aids for Animals/Laws for Paws and she immediately tried to locate a vet who would come in for an emergency call. I told her to tell them we'd cover the cost (of course I knew that would be their first concern).
While waiting to hear back, I drove to the home of our city animal enforcement officer. He was not home. For some reason, I then called our local humane society. A young girl answered and I explained my urgent need for assistance. As she relayed my story I could hear another person telling her "there was nothing they could do and that I should call 911 or the police non-emergency number."
I support the humane society organization in general and I know that our local branch (the Central Pennsylvania Humane Society) – like most every other -- is overwhelmed, under-staffed, and under-funded -- but I had a cat with severe trauma that needed to be relieved of his pain and suffering and put to sleep. I needed them to help me locate a vet. They had no answer for me. If I wanted 'them' to euthanize the cat, they could, but 'not until 5pm'. As I looked at the soft gray life slipping away in my backseat, I thanked them for nothing and hung up.
I then remembered my friend, Sandra, was still in town although she was in the process of moving and called her. She was able to immediately reach her vet who told us to bring the cat right to the clinic. I picked up Sandra on the way, speaking softly all the while to the precious little life on the back seat, reassuring him that we were going to take good care of him and that he was safe. I couldn't even imagine the pain he was in.
The vet was there for another emergency call and took us right in. She uncovered the frail body to expose the most beautiful, precious cat. As she examined him for any signs or ability to save him, she discovered more head trauma. She agreed he was too injured, too far gone, and our only way to help him was to put him to sleep. For a moment, she was hesitant to euthanize, not knowing the true owners. (What owners I thought…) I claimed full responsibility and ownership and signed off. I was not about to let him suffer one moment longer. She gave him a sedative to alleviate any remaining pain he might still be feeling and I gently hugged his little body whispering that he was such a good boy and was going to be okay. His veins had already started to collapse and his one eye, she pointed out, had been hit so hard it had been detached. By this point I had all three of us in tears as we comforted the beautiful creature laying so still on the table yet still responding to us – so unaware of what had happened to him the past 11 hours. I filled in the blanks on the card: male, 2-3 years old. Name? He needed a name. I could not have him remain nameless although he probably had received one from the careless owners who left him un-neutered and free to roam busy streets. Alex. His name would be Alex. The vet inserted the final shot and after a few more minutes, his body relaxed and he was finally, finally out of pain. No longer suffering. I had only wished I could have taken his pain away sooner.
He was a precious, sweet, beautiful cat. I know he is now at what we animal lovers call the "Rainbow Bridge" (where all our departed animals go) and he is happy and free from suffering. And, safe.
Thank God for Alicia and her friends. Thank God Alicia has so much love in her heart that she persisted until help was found and for her mom who was there to support and encourage her. Thank God for my friend Sandra who was able to find us a vet. The bill was outrageous and I'd like to complain about that too, but there are more outstanding issues to deal with. Alicia's parents insisted on paying the bill – refused any contribution from me - and I feel blessed they cared so much. We left Alex with the vet who promised he would be handled with respect and cremated by additionally caring people.
I took Sandra home and about hugged her to death (poor girl) then headed home. I hugged Mazey and Eli and found comfort from my amazing friends who sent several supportive texts. Then I sat and had a good cry. I was emotionally and physically drained. I slept for 3 hours and spent the evening replaying the events of the day.
This isn't the first time I've done this and I know it is far from being the last. I just have a difficult time knowing any living creature is in pain and suffering. I keep thinking it will get a bit easier each time I hold a fur baby close as they are euthanized and released from their pain. It doesn't, I guess. But, as hard as it is, I would never let an animal suffer. Especially the way Alex did.
I know I'm not alone. I am surrounded by hundreds of friends (some I've never met) who have gone through the same emotional ordeal and would not hesitate to do it again.

Please, please have your animals spayed and neutered.
Please keep them close and out of harm's way. If you are unable to care for a child or animal at least admit that you can't and seek a better situation for all.